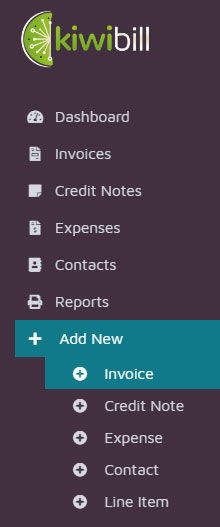 How to create an Invoice in Kiwibill?
In order to create an Invoice in Kiwibill, you will need to follow the steps below:
Step 1: Login to your Kiwibill account.
Step 2: Go to Create -> Invoices
Step 3: Enter the required Information.
Step 4: Save your document.
Step 5: Once your document is saved, you can send it to the client by clicking on the Send to Client button.
Step 6: Once the Invoice has been marked as Send, the Payments become available for this invoice. You can create a Partial or a Full payment, and also choose the date and the payment method. Once the Invoice has been paid in full, the status will change to Paid. 
Kiwibill will record the Payment and do all the calculations for your reports automatically. The Invoice will appear under the Invoices section, and also under the Client's page. You can create unlimited Invoices, save them as Drafts, and come back to use them at any time.